Municipal Comprehensive Plans
Don't just plan... inspire and engage
A comprehensive plan, or master plan, is a document that expresses a community's vision for the future – its goals and aspirations concerning land use, recreation, transportation, historic preservation, open space, environmental protection, housing, and other aspects of public life. Comprehensive plans are drafted by local municipalities, city and county governments, regional collaboratives and similar bodies. They can comprise a brief list of goals, or can span hundreds of pages and take a year or more to prepare.
When a community invests the time and resources in a comprehensive planning process, it's demonstrating transparency and commitment to its citizens and to surrounding communities.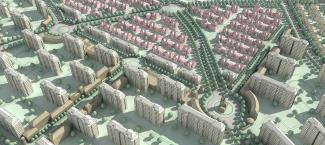 The public's interest in being engaged in the long-term vision of their community has grown significantly in recent years, and open and accountable government is becoming an expectation, especially among young people. Unfortunately, many comprehensive plans fall short of their citizen engagement goals for a variety of reasons.
Why do many comprehensive plans fall short?
The plan isn't widely distributed, and isn't widely publicized
The document is dense and hard for ordinary citizens to get through
After release, there's limited follow-through on stated goals and initiatives 
Citizens want to get engaged, but don't know where to begin or who to contact
Municipalities want to engage with citizens, but lack the tools to efficiently solicit, collect, process, and analyze their feedback
At Report Kitchen, we believe comprehensive plans represent a powerful tool to bring communities together around a shared vision.  Here are some of the tools we've developed to make these documents more engaging and effective.
Interactive Maps & Views
Maps and photographs are a common element of comprehensive plans, and Report Kitchen makes them interactive and engaging 
Replace static maps with embedded Google Maps or ArcGIS maps
Replace still images with Google Street view panoramas, or custom-photographed 360-degree views
Add additional interactive maps and images to enhance an existing document
Easy to Read & Navigate
Long PDFs are a challenge to read online, and especially on mobile. With Report Kitchen, readers can skim headlines and jump directly to chapters or sections that interest them.
Data Visualization
Bring your data to life with interactive charts and graphs that engage your readers. We can convert your existing static graphs or create brand new data visualizations that tell your story in compelling new ways.
Are you involved in a Comprehensive Planning process right now? Do you have a comprehensive plan you wish was easier to use and more engaging for the public? Or are you a consultant working with municipalities to create comprehensive plans?
We'd love to talk with you about building a dynamic, interactive, and engaging digital comprehensive plan. Connect with us using the form below!