Enterprise Green Communities
Enterprise Green Communities
Interactive checklist simplifies planning for certifying sustainable communities
In 2004, there were very few examples of healthy, efficient, sustainable and affordable multifamily housing.  Enterprise Community Partners took the lead in encouraging these developments by launching their Green Communities initiative. 
A key component of this initiative was developing a manual with over two dozen specific criteria that determine how sustainable a housing development is – everything from energy, water, and materials; to health and quality-of-life metrics.
This publication, the Green Communities Criteria, has been updated over the years, and for the 2020 edition, Enterprise wanted to make the manual easier to use, easier to understand, and more interactive – which is exactly what Report Kitchen does best.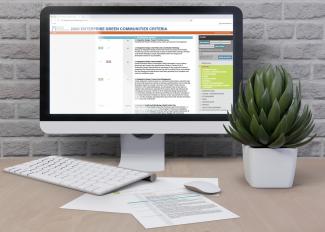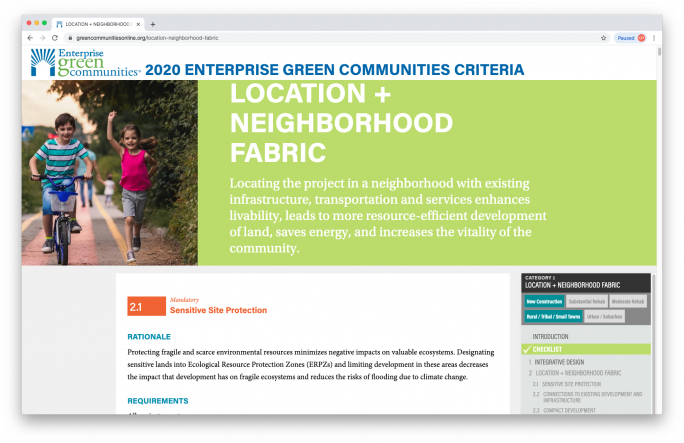 Green Communities Criteria consists of two components. First, there are eight categories of criteria with detailed information, references, and resources for understanding how to comply, and how compliance fits into the overall sustainability of a project. Second is a checklist that summarizes everything and indicates what's mandatory, what's optional, and how many points each option is worth. Which criteria apply to a project, and how many points are needed, depends on several factors, including the type of development, and location of the community.
The Report Kitchen interactive platform simplifies understanding all these different factors. Visitors simply select their type and location from the multiple-choice options, and non-applicable content is hidden from view. The corresponding mandatory and optional point requirements are shown, along with an easy-to-read graphic showing your progress. Each point in the Checklist is linked back to the Criteria content, making it easy to navigate back and forth.
And once a visitor has completed their checklist, they can download a customized PDF showing which criteria apply to them, which they've marked Yes/No, along with their point totals.
Whether the visitor is a housing development builder securing Green Communities certification, or just someone interested in understanding the many factors that contribute to creating sustainable, affordable housing, Report Kitchen makes the 2020 Green Communities Criteria an easy to navigate, engaging interactive experience.
Does your organization produce manuals, checklists, toolkits, resource guides, or similar publications?
How much more engaging and effective would they be if visitors could truly interact with your content instead of just downloading PDFs?
We'd love to talk with you about it — get in touch with us today!