Americans Agree: Public Attitudes Towards Gifted Education
Americans Agree: Public Attitudes Towards Gifted Education
Data-rich analysis of education-focused public opinion research
The Institute for Educational Advancement (IEA) has advocated for gifted students on the local and national level for nearly 20 years. They work to dispel harmful myths about giftedness, educate parents and teachers on the traits of these students, and support adequate funding to meet their essential needs.
IEA recently commissioned the first-ever national survey assessing the American public's views on gifted education, and the results indicate that the public recognizes that this population is often underserved. IEA released their findings in a Report Kitchen-powered interactive website.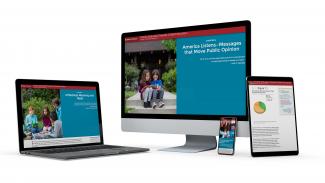 Does your organization publish public opinion research, poll results, study data, or similar publications?
How much more engaging and effective would they be if visitors could truly interact with your content instead of just downloading PDFs?
We'd love to talk with you about it — get in touch with us today!